Orioles Beat Pirates 6-5 3/1/2013
Written by Michael Williams and BamaOsFan
Read it here.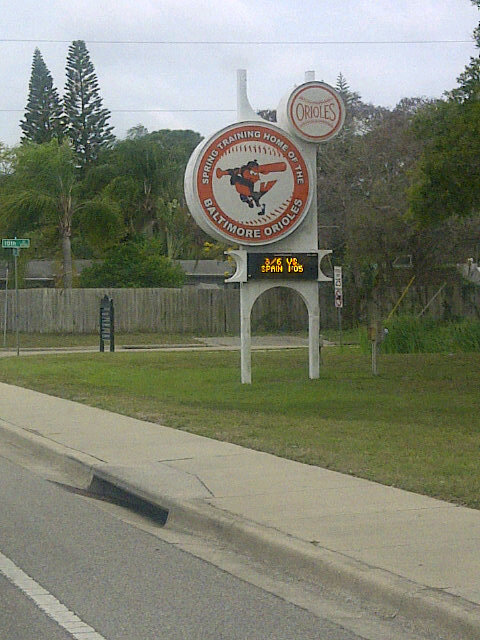 Brian Roberts with three hits and a home run. Plays a smooth seccond base.
Jason Hammel with a brilliant two innings in his first Grapefruit League start.
Nolan Reimold homers then leaves the game with a sore shoulder after throwing.
Buck speaks
"His arm's a little sore from throwing. Today was the first day that he told us that it was a little sore. He didn't feel comfortable throwing and didn't want to continue throwing, especially in the cold weather. He told us that before he hit the home run, so it didn't bother him to swing. Obviously, it didn't. Nolan's been having some good BPs, so it doesn't come as a surprise. It probably made coming out of the game a little better. It only bothers him when he throws and he said he'd rather not take any chances with it, but we'll see what tomorrow brings. He said it feels fine. Just throwing between innings, it was kind of barking. No reason to stay out there. With all he's had, you certainly take precautions with it. But I don't think it's related. We'll see. You're dealing with a lot of different nerves and stuff. We'll see what the next couple of days bring."
MASN's Roch Kubatko says
"One of Reimold's teammates kidded him about being a full-time DH anyway, so he shouldn't worry about it."
Branden Kline finished the game, with a ton of movement on a crisp fastball. Scouts carried on about his slider/changeup combo.
Homeruns were by Brian Roberts, Wilson Betemit, Jason Pridie and 2 run shot by Nolan Reimold.

On to Port Charlotte and the Rays tomorrow.
Comments/Questions?
Visit the Orioles Hangout Message Board