The Gas Man Starteth
Written by Roy Alan Firestone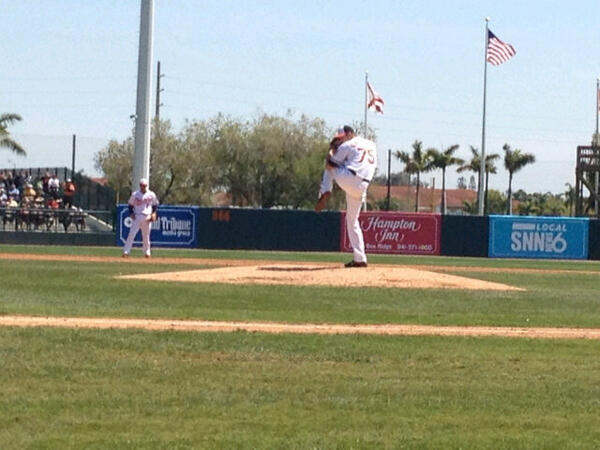 It was billed as a preview of two of the best pitching prospects in the Orioles organization, but in the end it was the Rays top hitting prospect that made the difference.
Kevin Gausman and Dylan Bundy both pitched impressively. I sat with Joe Angel, the Orioles radio announcer in the first row, so that we could get a "field level" perspective. Gausman opened the game with two walks, but home plate umpire John Hirschbeck admitted to me after the game that he probably could have gotten away with one or both of the ball fours. He was very impressed with the way both Gausman and Bundy pitched.
Gausman was impressive with his tight delivery. When he missed, as he did early, he didn't miss by much. He throws hard and he was hitting 93 with ease on the gun. He reminds me of a bigger version of Bret Saberhagen. The Orioles should only be so lucky.
Gausman was not hit hard until the third, when after Kelly Johnson walked Evan Longoria waited for a strike Gausman had to throw and jumped on it for a RBI double. That was probably the only hard hit ball on the day off Gausman, Impressive and poised.
After Matt Wieters tied the game with a 3 -run homer, it was Bundy's turn.
Dylan was hitting 96 on the gun and maybe even higher at times. He was getting a lot of swings and misses and breezed through the Rays lineup until the ninth.
Will Myers, the 22 year old phenom, who hit 37 home runs in AA and AAA last year, the player for whom the Rays dealt both James Shields and Wad Davis, jumped on a Bundy pitch and scorched a double to left. Bundy then appeared to be slightly unnerved. He threw a wild pitch and moved the runner to third. In a rare catcher balk, Luis Exposito cupped the ball into his mask and transferred it to his mitt. This is a seldom seen catchers balk, but it got no argument from the Orioles. The run scored and despite a late inning rally, the Orioles lost 4-3.
Some comments from unidentified parties.
"We could really use a lefty to step up in our rotation". Matusz?
Luke Scott looked as big as a house. Maybe 10 lbs. heavier than last year and he crushed a Mike Belfiore pitch into a 2 run HR in the third. He looks very, very motivated. Could be ready for a big year.
Myers will not make the club on opening day, but Joe Maddon told me he isn't far off. "He is a very patient and polished hitter who needs just a few more reps before he sees the bigs.
I have to assume Buck talks up McFarland because he'd like to trade him. He isn't close to as talented as virtually any regular Oriole starter or reliever on last year's roster. Tommy Hunter could be dealt if it becomes a numbers game in the pen. The Orioles seem to have Arietta and Matusz neck and neck for the five starter. But don't count out Steve Johnson quite yet either.
It was good to see the orange and black in the Florida sun today, sans Manny, AJ and Nick. Still a pretty impressive display of arms. More tomorrow.
Comments/Questions?
Visit the Orioles Hangout Message Board