Dan "Mr. February" Duquette continue to add potential pieces to his 2017 squad by acquiring left handed pitcher Vidal Nuno from the Los Angeles Dodgers for minor league reliever Ryan Moseley. Before you get too excited, Nuno was acquired by the Dodgers for 38-year old back up catcher Carlos Ruiz in November.
So if you are keeping track, his value around baseball is a 38-year old back up catcher or a 8th round minor league relief pitcher who put up a 4.1 BB/9 in the New York Penn League. This means that teams aren't exactly brimming with confidence over Nuno despite coming off a year in which he pitched pretty well out of the pen for Seattle in 2016 posting a 3.09 ERA, 8.0 K/9 and 6.13 SO/BB ratio as a reliever.
The 29-year old Nuno has a four pitch repertoire (fastball, slider, change, curve) but primarily uses his fastball and slider as his go to pitches. His fastball doesn't have a lot of movement, and he tends to pitch up in the zone with the pitch leading him to be a flyball pitcher who can be homer prone (1.7 HR/9 in 2016). He will sink one once in awhile and when he does he can be more effective, but it's not consistent.
Over his career he's been effective against left-handers (.224/.285/.356/.641) by using his slider often, but last year he was more pedestrian against them (.293/.333/.476/.809) with lefties hitting .269 off the pitch after hitting just .233 and .183 the previous two years.
Just looking at the numbers, it appears his slider was not as effective as it's been in years past and that could be the key to his 2017 season. Nuno will be in the competition for the long reliever spot and with four right-handers projected to be in the rotation, Duquette prefers a left-hander in that role.
The Orioles designated lefthander TJ McFarland for assignment to make room for Nuno on the 40-man roster. It's doubtful McFarland will be claimed so he could stay in the organization as left-handed pitching depth at Norfolk.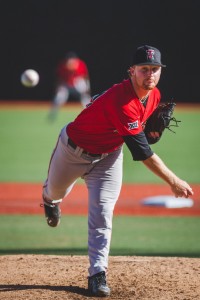 The Orioles gave up Moseley, a 22-year old right-handed relief pitcher who they drafted in the 8th round of the draft last season out of Texas Tech University. Moseley has a 91-95 MPH sinking fastball that can get a lot of groundballs, but he's struggled in college with his command at times and walked 4.1/9 in his pro debut at Aberdeen last year.
Anytime you can trade a 22-year old minor league reliever who hasn't pitched above the NY-Penn League for a big leaguer you have to make that trade. At worse, Nuno is an upgrade of McFarland and at best, the Orioles have found their long reliever.