MLB Network TV.  WJZ 1-5.7 the Fan MLBtv
Many options.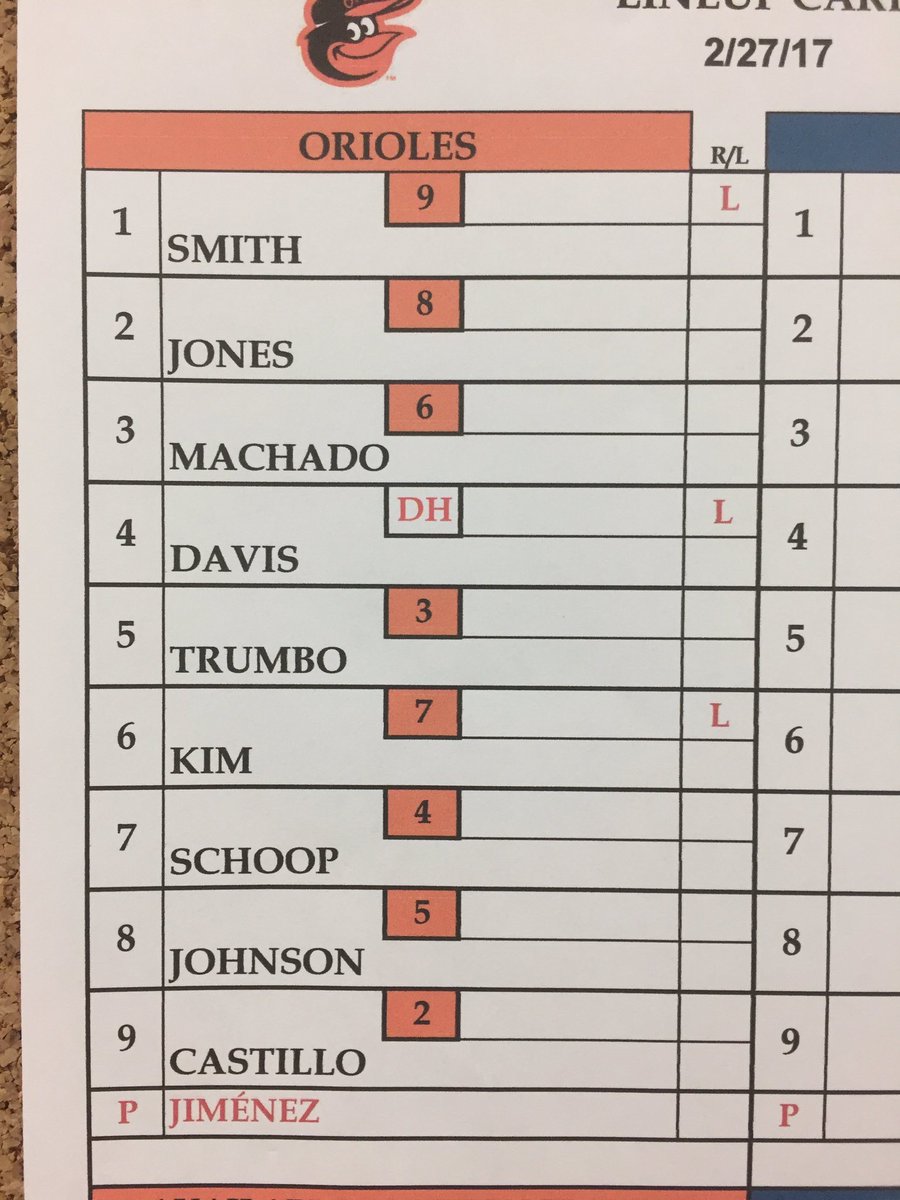 A double by Greg Bird put the Orioles in a jam. A run scored on an Aaron Judge ground out.
Ubaldo threw 19 pitches in the first,  getting a final ground out of the inning.
Orioles side retired in order.
Jimenez back out in the second, ground-out on strike one at 92 MPH.
Looping line out to short on two pitches.
Dustin Fowler grounds through the hole to the first base side of second for a single.
Stolen Base.
Adam Jones made a spectacular play on a pop up flare to record the final out of the inning with no damage.
Don't know if the Adams Jones catch or the Buck Showalter encouragement is better

"Get in their young man" 😂#Baltimore #Orioles pic.twitter.com/y5m700naSh

— El Dutch Snyds (@eldutchsnyds) February 27, 2017
Schoop ties it up with a banger!#Orioles #BaltimoreOrioles pic.twitter.com/PUakcDrd57

— El Dutch Snyds (@eldutchsnyds) February 27, 2017
Hyun Soo Kim allowed a ball to drop in left without using his sun glasses. It ended up as a triple.
Nuno got a k and two grounders to eliminate the threat.
Run not, lest ye be JUDGED. https://t.co/Sw4PFmNoqi #SpringTraining pic.twitter.com/5Yaw1WfWjV

— MLB (@MLB) February 27, 2017
Jed Bradley walked his first batter.
He got a pop up and a double play. Nice work.
Parker Bridwell on to relieve Bradley.
He allowed a Greg Bird double.
Cleaned up the act nicely.
Joey Rickard singled.
No scoring. still 1-1
Donnie ❤️. #IBackTheBirds pic.twitter.com/YDtaHIJocq

— Orioles on MASN (@masnOrioles) February 27, 2017
Donny Hart looked real good.
Robert Andino clubbed a double.
No Joy
Lefty Tanner Scott is on to work the eighth. Walked Ji Man Choi. Settled in and ended up with a nice strikeout. No damage.
One two three eighth for the Os.
Oliver Drake works the top of the ninth. Single by Clint Frazier with an error to Craig Gentry. Then a single. Then Thario Estrada cleared the bases with a three run homer.
Yankees lead 4-1
Great play and throw from third by Robert Andino. No further damage.
Orioles lose.